Age of Marvels & DC New Dawn Wiki
The Age of Marvels & DC New Dawn is a collaborative encylopedia designed to archive everything to do with the CBR forums' fantasy comics solicitations projects. This wiki is a fan created site which means anyone is free to edit in order to improve the content.
For years, the CBR forums have been host to two interactive universes where we create and write solicitations for our own Marvel and DC Publishing lines! This is the repository of those solicitations, and the go-to source for the continuity you can help create!
2,850 edits to 369 articles since August 2015.
Explore the Wiki
To write a new article, just enter the article title in the box below.
Want to help editing pages we're stuck on? See a full list here.
Check out the "Wanted Articles" list to see what is needed. You can find a list of useful templates on Category:Templates
Before creating a new page, check to see if the same page with a different spelling exists
When editing on a page make sure they're links on the page, otherwise its a Dead end page
If you have a question, you can ask any of the administrators
Book of the Month for Age of Marvels June 2019?
Which do you contribute to?
Line of the month for DC New Dawn May 2019?
Welcome to the official wiki for Age of Marvels and New Dawn!
Check out all the titles HERE!
Age of Marvels Titles | New Dawn Titles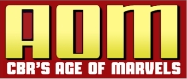 Community content is available under
CC-BY-SA
unless otherwise noted.